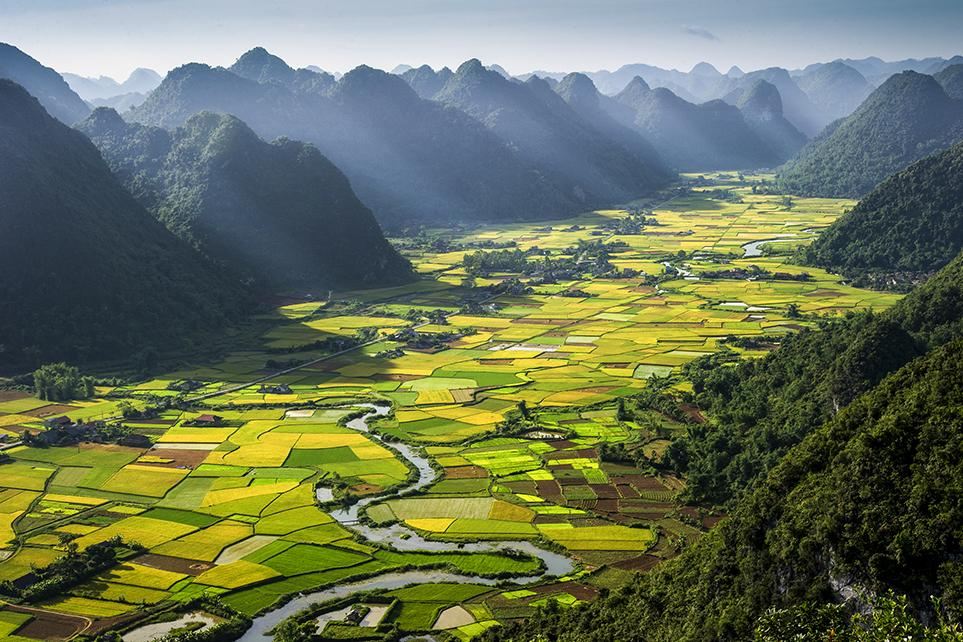 Bac Son Green valley, a forgotten gemstone in Lang Son awaits your discovery
Lang Son Province is located in the North-East of Vietnam, sharing the border with Cao Bang Province to the north, with China to the north-east, with Quang Ninh to the south-east, with Bac Giang to the south and with Thai Nguyen and Bac Kan Provinces to the west. The provincial capital of Lang Son is Lang Son City, 160km from Hanoi, 130km from Cao Bang.
Lang Son is by far only a stop-over for travellers on a journey to or back from Cao Bang and Bac Kan Provinces, while the province and the city itself deserves more time. Lang Son Province is a mountainous region and inhabited by a number of ethnic minorities including the Tay, Nung, San Diu, Hoa...which has huge potential for adventure tours, trekking tours with homestay. Mau Son Mountain with peaks of over 1,500m above sea level could be built into a hill station for relaxing holidays. Lang Son also has the mountains of Huu Lung, Chi Lang, Na Sam, That Khe...which are historical sites and which are great for motorbike adventure tours.

The city of Lang Son is a scenic one. Though it's a huge commercial hub between Vietnam and China, Lang Son City still has the tranquility and freshness that not many cities in Vietnam have. There are the Nhi Thanh and Tam Thanh Caves in town and the To Thi Mountain with walls of the former Mac Citadel (16th century). You could easily spend the whole day touring the caves and to have rock climbing or mountain climbing on the To Thi Mountains. From the peak of the mountain, you will be charmed by the panoramic picture of the city surrounded by green mountains.



Recently, there are few new 3* and 4* hotels which may make your stay here more of a luxury experience. Still, fine-dining and street-dining in Lang Son are among the poorest in Vietnam with food mainly ranging from meat to oily food. Hopefully, with more tourists spending more time in Lang Son City, the restaurants in town would offer better dining experiences.
Bac Son Green Valley - Private Day tour from Hanoi
Bac Son Valley is a place owned beautiful scenery belonging to Bac Son, Lang Son province. Recently, beautiful rice field in harvest of Bac Son has been introduced by famous website specializing tourism - Whenonearth with lots of praises, admirations with the beauty of this landscape. Known as a district belonging to Lang Son province, far from Ha Noi about 160 kilometers to the North. From Ha Noi along the Highway 3 to Thai Nguyen and following to the Highway 1B, tourists need to move closely to 80 kilometers to Bac Son.

Being as a mountainous district, people here are mostly Tay ethnic. Life in this region is always peaceful, people and the natural scene are extremely impressive.

For the purpose of watching completely Bac Son Valley, visitors should climb on the top of mountain. If they are lucky to come Bac Son properly in crops, they surely would to be back to contemplate the scenery at the second time.

Surrounded by limestone mountains, Bac Son appeared in a puff of smoke fades with mesmerizing beauty, the mountains, the clouds and the green rice fields attracted travelers' view.

With flat terrain, Bac Son has many merits for irrigating which leads the people planted rice in two crops. Being planted in the different time, rice field also was harvested in turn which forms the colorful strip with the pieces of field. These opposition color pieces were deeply impressed by anyone contemplated them and horizontal - vertical canals make the picture of Bac Son more magnetic.

If the travelers coming to Bac Son at the time when the rice is newly transplanted, the entire space will display a green color of the new rice, as Whenonearth similes - "The rarely green paradise on the earth". The amazing scenery of Bac Son is becoming the place that photographers and "phuot" travelers desires to explore at the moment.

Ethnic Voyage offers adventure tours and motorbike tours through Lang Son with 1 or 2 nights staying in Lang Son City or in Tay village of Bac Son. Bac Son is a rural district of Lang Son Province in the Northeast region of Vietnam. In the district had a population of 65,073. The district covers an area of 698 km². The district capital lies at Bac Son. This region offers a breaktaking and stunning sceneary for photographer

Please feel free to contact us at [email protected] for organising a journey off beaten tracks to Bac Son and Lang Son
EthnicVoyage.com - Enjoying the different way of traveling
Other travel news in Vietnam